Question: Can people feel farts?
Short answer: Yes.
Long answer: After becoming deaf at the age of 46, Ludwig van Beethoven sawed the legs off his piano and felt the vibrations of the notes through the floor. In this way, he was able to sense the music he composed. Hellen Keller later referred to the feeling of Beethoven's Ninth Symphony as a "heavenly vibration."
Science has confirmed that many deaf people are especially attuned to vibrations, which raises the obvious question of whether humans might have a tactile sensation of farts.
Farts are most often detected by sound or smell, and under certain circumstances it is even possible to see them. But their expulsion exerts a mechanical force on their surrounding environment, and theoretically this should leave a detectable trace.
The detection of tactile vibrations is in many ways analogous to the detection of earthquakes, a field known as seismology. Earthquakes can be caused by anything that releases energy into the earth's lithosphere, creating elastic waves that propagate outwards from the epicenter. Likewise, farts create a disturbance in the flatosphere, as gas is released from a single point and propagates outward. In both cases the resulting mechanical perturbations can be detected at some distance from the source. Here is the seismograph record showing the onset of an earthquake:
To observe the seismic consequences of farts, we obtained three high-performance accelerometers and measured the forces detected at various distances from the fart. The experimental subject was seated on a flat surface with sensors placed at distances of 8", 16", and 32" from the source.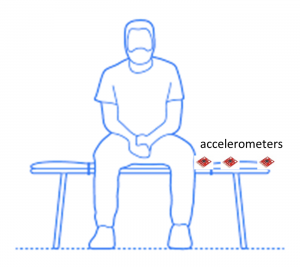 The first fart produced by this subject can be heard here:
And the corresponding force measurements are shown here:
The blue line shows that the fart registered a peak force of 0.028 g at a distance of 8 inches from the epicenter. (Note that this is the magnitude of the vector sum of the force in all three dimensions). The peak declined to 0.020 at a distance of 16" and 0.011 at a distance of 32". The frequency of the seismic force is 21 Hz, which is similar to the higher frequencies observed in seismographs recorded during earthquakes.
These measurements allow us to make a quantitative comparison between farts and the peak ground acceleration caused by earthquakes. According to the United States Geological Survey (USGS), an earthquake that created a force of 0.02 to 0.03 g would be classified as "light" or "moderate", with very light damage expected to occur to buildings and other structures. It would be classified as intensity level 4 on the Mercalli scale (which replaces the obsolete Richter scale), which means that it would be "felt indoors by many, outdoors by few during the day. At night, some awakened."
Of course, to feel the force of the fart, one would have to be positioned very close to the farter, but the resulting vibrations should provide a full tactile experience of farts.