Question: What does an exceptionally smelly fart sound like?
Short Answer: Two farts.
Long answer: The air quality meter that we use to obtain an objective measure of smelliness has a maximum reading of 60 ppm. During the course of our experimental recordings, we have only seen a few farts that approached that number, at which point the sensor issues a warning that the area should be evacuated. Bystanders often agree.
We have already seen that smellier farts tend to be a bit louder and to have lower sound frequencies. But what do these elite farts sound like? Here are time-frequency spectra of the 4 smelliest farts recorded in our sample: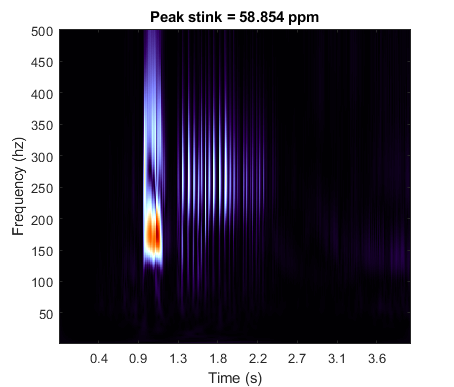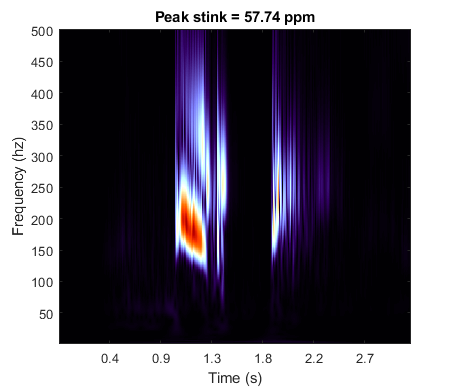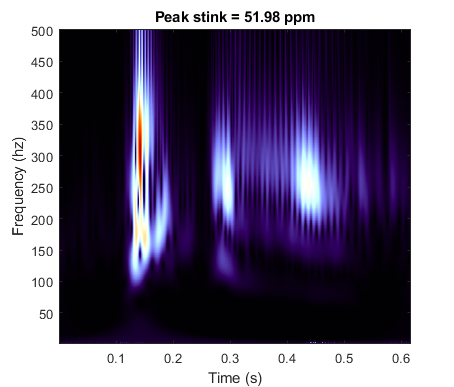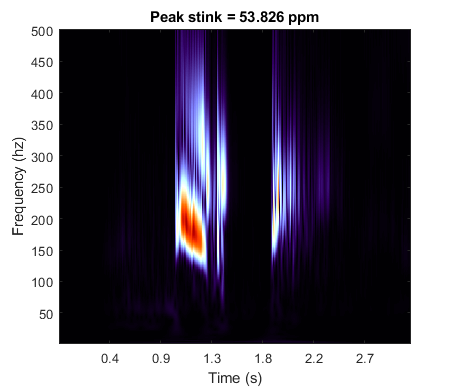 One can hear that each of these farts is comprised of two or more components, often with different frequency content. As a result, it might make more sense to conclude that each of these farts is actually multiple farts in quick succession. This raises the thorny philosophical issue of what actually delineates an individual fart. We will not attempt to address that issue here.
In any case, the smelliest farts all have multiple phases, so this can be a warning sign to those concerned with smell. At the same time, in listening to the sound files, one cannot avoid noting evidence in the background that members of the College found these farts to be among the most humorous in our database.