Question: Does the sound of our farts change as we get older?
Short answer: Yes.
Long answer: As detailed in a previous post, everyone's farts sound different. In fact, it is possible to identify an individual based only on their fart sounds with very high accuracy. In this regard the production of fart sounds is no different from the production of vocal sounds: the sounds depend on an individual's unique anatomy and physiology.
It is well-known that vocal sounds change across the lifespan of an individual. Can the same be said for fart sounds? As with so many facets of the flatological sciences, very little is known.
One of the members of the College recorded a database of their own farts some 25 years ago and was able to unearth this data for the present project. This provides a unique opportunity to compare the sounds of one individual's farts produced during young adulthood and during middle-age, the latter being accessible through the fart browser.
Our initial analysis indicates a substantial change in fart sounds over the relevant time period. The plot below shows the average sound frequencies present in the farts of the young (red) and old (blue) Pizzahead. The younger farts are clearly more broadband in nature, and extend to much higher frequencies, well beyond those encountered in our database of middle-aged people. Some of this change can likely be attributed to differences in sound recording technology, but there is also an obvious anatomical explanation that we will not pursue here.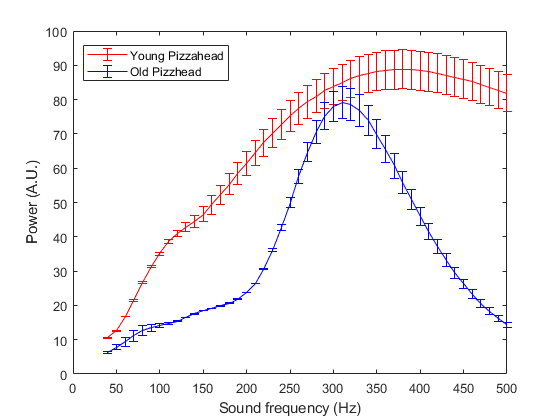 In a previous post, we described a simple fart recognition technology based on three-layer neural networks. We used the same approach to determine whether such a network could recognize the farts of the young Pizzahead after being exposed only to those of the old Pizzahead, or vice-versa. In the first experiment, we trained a neural network with 20 hidden units to categorize farts, after again transforming the raw sound data using the Mel-frequency cepstrum. The network was trained with young Pizzahead farts, along with farts from other contributing members of the College. As shown below, when it was then given old Pizzahead farts, it seldom categorized them correctly, preferring instead to attribute them to MonkeyBrain or ChillAlien. The reasons for this are unclear.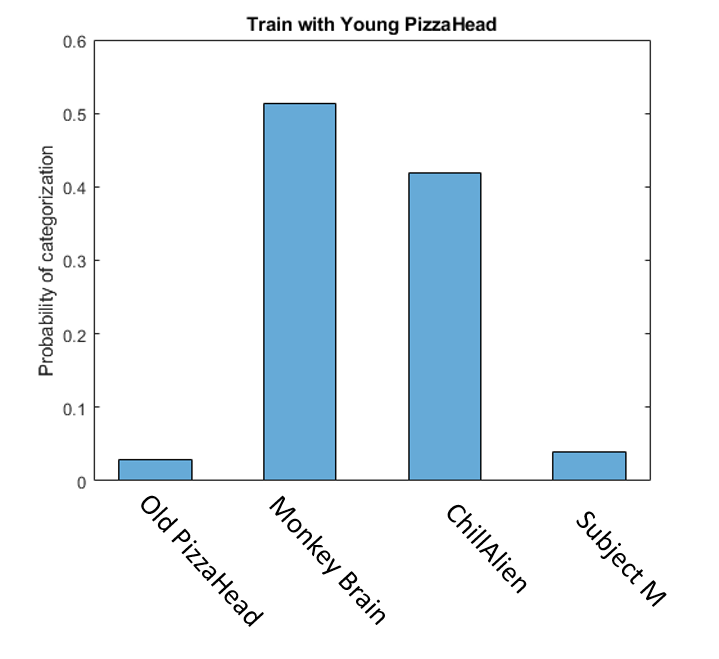 Similarly, when the network was trained with old Pizzahead farts and then presented with young Pizzahead farts, it again failed to perform correct categorization, instead attributing them primarily to Subject M. The latter result might be interpretable based on the fact that the recording methodologies for these two data sets were the most similar, or to the fact the subjects were most similar in age. Clearly more research has to be done.